My book talks are coming at you from a librarian, not a reviewer. You won't find me talking about style or craft, why I think this could've been better or what worked or didn't work. I only do book talks on books I liked and want other people to know about. So if it's here I probably think it won't injure your brain if you read it.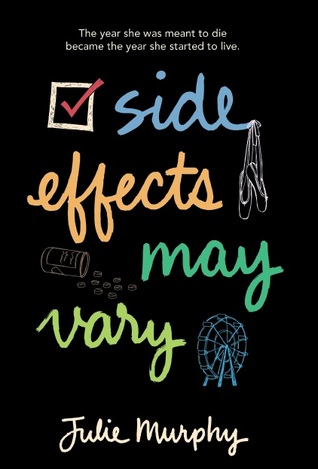 When Alice is diagnosed with leukemia at the age of sixteen, her anger boils over, making her strike out at those who have wronged her. Settling scores with her ex-boyfriend through public humiliation and grinding her arch nemesis into the ground is not something she can do alone. Well aware that her lifelong friend Harvey has always had romantic feelings for her, Alice talks him into helping execute her plans. Harvey goes along for awhile, wanting to do anything that might bring weakening Alice some peace before she's gone.
But when her cancer goes into remission, Alice gets a second chance at life… a life that she's ruined on purpose. Alienated from her friends, isolated from her family, and finally having pushed Harvey too far, Alice realizes that getting even might not have been the best way to spend what she thought would be her last days.
a Rafflecopter giveaway
//widget.rafflecopter.com/load.js