My book talks are coming at you from a librarian, not a reviewer. You won't find me talking about style or craft, why I think this could've been better or what worked or didn't work. I only do book talks on books I liked and want other people to know about. So if it's here I probably think it won't injure your brain if you read it.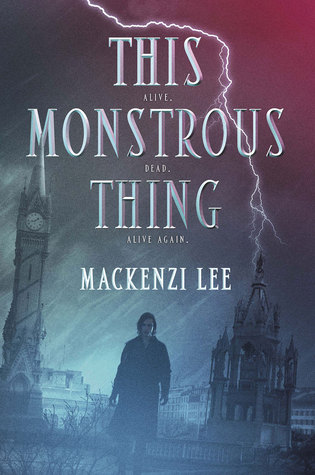 In a steampunk 1818 Geneva, people with clockwork appendages are second-class citizens. Many can only find medical care through the Shadow Boys, doctors and mechanics who operate in secret, building arms and legs for victims of the recent wars. As public sentiment against clockworks grows stronger, Alasdair Finch, his brother Oliver, and the father that taught them everything must exercise extreme caution.
Alasdair's life falls apart when Oliver is killed in an accident, his father arrested, and Mary – the girl he loves – is gone. Putting all of his skill to work, Alasdair resurrects his brother only to find that Oliver is not the brother he remembered. With the police on his tail and an opportunity to flee the country to a more accepting place, Alasdair puts Geneva behind him – and Oliver.
Under the protection of the brilliant Dr. Geisler – Oliver's former patron – Alasdair learns that the doctor is not the savior he was hoping for. The automatons he has built protect a terrible secret, and the clockwork girl who serves him is treated terribly. But the doctor's connections may be Alasdair's only hope of returning to Geneva for Oliver.
Meanwhile, the anonymous publication of Frankenstein has the public in an uproar, believing it to be not a work of fiction, but the true story of a resurrected clockwork man. Clockworks everywhere are forced to wear Frankenstein badges to identify themselves, and as Alasdair dives into the novel he finds too many parallels between himself and Victor Frankenstein for comfort. Who wrote it? Dr. Geisler, as wish-fulfillment for his own dark wants? Oliver, as a public rebuke to Alasdair for his abandonment? Or was it Mary, the girl he loved and shared his darkest secrets with?
a Rafflecopter giveaway
//widget-prime.rafflecopter.com/launch.js