My book talks are coming at you from a librarian, not a reviewer. You won't find me talking about style or craft, why I think this could've been better or what worked or didn't work. I only do book talks on books I liked and want other people to know about. So if it's here I probably think it won't injure your brain if you read it.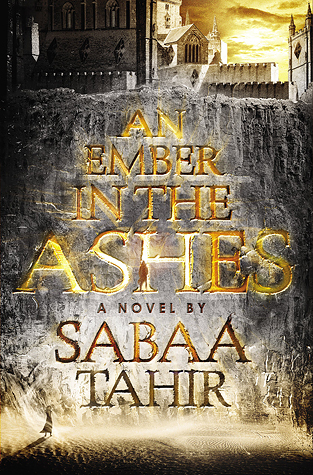 When Laia's brother is taken captive by the Martial Empire, she wants to fight back, but knows that she doesn't have the kind of temperament that both of their parents – the founders of the Resistance – had. Even though she's terrified, Laia agrees to an exchange with the current leader of the Resistance. She will go undercover as a spy / slave within the empire's prestigious military academy, and report back to them what she learns as the Martial Empire moves toward selecting their next emperor, and in return they will rescue her brother from prison.
Posing as a slave means that Laia faces constant threats from both her owner – the female Commandent of the military academy – and from the male students. A slave has no rights, and Laia could lose an eye for being a few minutes late to a summons, or be raped in the hall by just being in the wrong place at the wrong time. Still, her loyalty to her brother keeps her in the position. She begins to feed information to the Resistance as the empire puts it's four greatest military students to the Trials, which will determine who will reign next.
Elias is the Commandent's son, one of the best students in the school, and a contender to be the next emperor. And all he wants to do is leave. The constant violence of the military academy goes against his softer nature, and the golden eyes of his mother's newest slave have captured his attention. Together, the two of them could bring down the entire empire – or they could fade away like an ember in the ashes.
Enter to win a SIGNED ARC below!
a Rafflecopter giveaway
//widget-prime.rafflecopter.com/launch.js