My book talks are coming at you from a librarian, not a reviewer. You won't find me talking about style or craft, why I think this could've been better or what worked or didn't work. I only do book talks on books I liked and want other people to know about. So if it's here I probably think it won't injure your brain if you read it.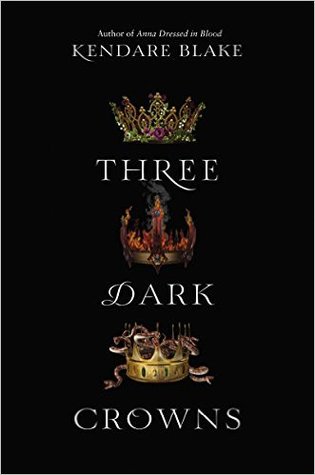 The triplet queens of each generation on the island of Fennbirn are expected to kill each other, eventually. First each must develop their gift, separated at a young age so as not to become too attached.
Katherine has the poisoner gift, able to quaff the most deadly of foods and drinks without flinching. Arsinoe is the naturalist, able to make forests grow and call animals to her at whim. Mirabella is the elemental, able to create hurricanes or make the sun shine according to her wishes.
Except, things aren't working out that way. Katherine can't even stand to walk through a patch of nettles and Arsinoe is still waiting for her familiar. Each backed by powerful influencers, their inability has been kept quiet as strong political forces spread stories of their powers, and secretly look for other routes to empower the girls.
Katherine learns to be charming, flirtatious, to make herself amenable to the queen-consorts that will ally themselves with the queen of their choice… but Katherine may be falling in love with the boy sent to teach her these skills, and he's not an eligible queen-consort. Arsinoe begins to dabble in low magic, cutting runes into her skin and soaking lengths of rope in her blood… but low magic can backfire and a botched spell may have ruined her best friend's only chance at happiness.
Mirabella is the powerful queen, her gift slippery but in her grasp. But the one queen meant to rule has memories of her sisters as children, and a heart not bent on murder.
a Rafflecopter giveaway
https://widget-prime.rafflecopter.com/launch.js