My book talks are coming at you from a librarian, not a reviewer. You won't find me talking about style or craft, why I think this could've been better or what worked or didn't work. I only do book talks on books I liked and want other people to know about. So if it's here I probably think it won't injure your brain if you read it.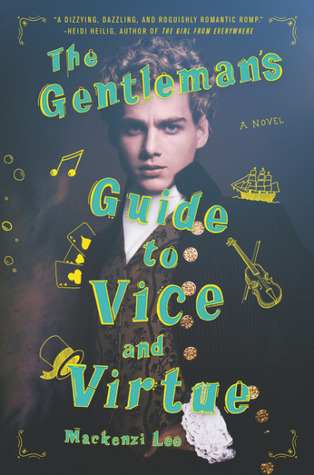 Henry Montague has never exactly had a hard life. The eldest son of landed gentry, his future has always been set, and cozy. Even though he may not want that for himself, it's still there for the taking – as is everything else. With good looks, money, and connections, Monty has gone whatever he wants – with whoever he wants – for most of his life. But when a romantic relationship with another boy at Eton gets him tossed out, and severely beaten by his father, Monty learns that his life of drinking and debauchery maybe at an end.
With a brand new little brother, and the possibility of an heir that isn't an embarrassment, Monty's father is ready to call him quits. Ready to embark on their European tour with his best friend, Percy, Monty thinks it's his last hurrah – all the fun he can squeeze into a few months before Percy goes to law school and Monty accepts his place in the family. But his father has other ideas – this trip is instead going to be Monty's chance to prove he can grow up and behave – or else not bother coming home at all.
With a chaperone and his studious younger sister along for the ride, Monty knows not only will there not be any fun, but there also will be no chance for him to reveal to Percy what his true feelings are. Choked with art, recitations, museums, and lectures, Monty has just about had enough until one night at Versailles when a young noblewoman sneaks him into a room for some fun – until the room's owner shows up. Fleeing France in the hopes of getting out head of his reputation, Percy forgets that he nicked a trinket from the room in Versailles for fun – until their carriage is halted, their driver killed, and only quick thinking on his sister's part saves their lives, leading the three teens on a mad dash through Europe while the try to figure out the importance of the box, and a few things about themselves.
Want to help me with all the mailing costs? I do giveaways at least once week, sometimes more. It can add up. If you feel so inclined as to donate a little to defray my mailing costs, it would be much appreciated! Donating has no impact on your chances of winning.
*********************************************************************************
a Rafflecopter giveaway
https://widget-prime.rafflecopter.com/launch.js