A new episode of the podcast is up, featuring fellow Ohio author Tricia Springstubb, who was one of my first guests on the blog all the way back in March of 2011. In this episode, Tricia joined me to talk about the transition of changing from being a lover of stories to a writer of them, and why she writes for the age groups she does, how she takes real life inspiration and uses them in her fiction, and the challenge of writing chapter books for the readers who are in between picture books and novels.
https://www.podbean.com/media/player/dsc52-8c46cf?from=yiiadmin
And – there's a giveaway running right now for advance copies of GIVEN TO THE EARTH!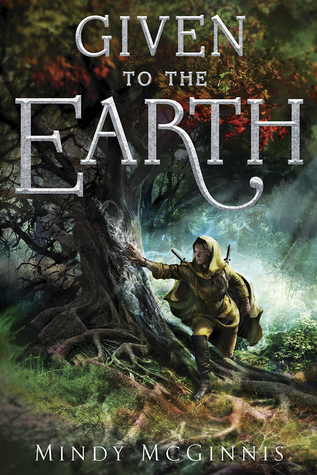 Duty, fate, desire, and destiny collide in this intricately wrought tale.
Although she was born to save the kingdom by sacrificing herself to the rising sea, Khosa's marriage to King Vincent has redeemed her. As the Queen of Stille, she's untouchable. But being Queen hasn't stopped her heart from longing for the King's stepbrother, Donil. And it hasn't stopped her body from longing for the sea itself, which still calls for her.
While Khosa is made to choose between loyalty and love, Dara is on a mission for vengeance. Years ago, the Pietra slaughtered the entire Indiri race, leaving only Dara and her twin, Donil, alive. Now, spurned by King Vincent, Dara has embarked on a mission to spill the blood of Pietra's leader, Witt, and will stop at nothing to show his people the wrath of the last Indiri.
As the waves crash ever closer to Stille, secrets are revealed, hearts are won and lost, and allegiances change like the shifting sand.

"The end of the world is nigh, and the characters from Given to the Sea (2017) must decide how to meet it. The distinct perspectives shine, and the harsh-yet-hopeful conclusion ensures this duology doesn't succumb to the tired trope of happily-ever-after, making this a worthwhile read." – Kirkus, starred review 
AND there's a giveaway running for DREAD NATION by Justina Ireland!
Jane McKeene was born two days before the dead began to walk the battlefields of Gettysburg and Chancellorsville—derailing the War Between the States and changing America forever. In this new nation, safety for all depends on the work of a few, and laws like the Native and Negro Reeducation Act require certain children attend combat schools to learn to put down the dead. But there are also opportunities—and Jane is studying to become an Attendant, trained in both weaponry and etiquette to protect the well-to-do. It's a chance for a better life for Negro girls like Jane. After all, not even being the daughter of a wealthy white Southern woman could save her from society's expectations.
But that's not a life Jane wants. Almost finished with her education at Miss Preston's School of Combat in Baltimore, Jane is set on returning to her Kentucky home and doesn't pay much mind to the politics of the eastern cities, with their talk of returning America to the glory of its days before the dead rose. But when families around Baltimore County begin to go missing, Jane is caught in the middle of a conspiracy, one that finds her in a desperate fight for her life against some powerful enemies. And the restless dead, it would seem, are the least of her problems.
a Rafflecopter giveaway
https://widget-prime.rafflecopter.com/launch.js